8 oz Leather Jacket Leather Conditioner Restoration Kit by Leatherique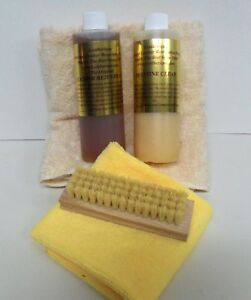 ---
We have used Leatherique for over 20 years in our daily operations, we are not just retailers.  We recommend nothing but the use of bare hands to apply the Rejuvenator as this allows for complete coverage of the leather surface.  We do however use a spray bottle to apply the Prestine Clean and brush it in liberally to deep clean into the pores.  This kit now comes with a convenient pump spray head that fits the bottles to allow our fellow enthusiasts to obtain the same great results that we get.Why buy from MMX?
We are leather restoration experts, we use every product that we sell and stand behind it.  We are not just mass retailers looking to make a buck at your expense.  We are always available for leather advice over the phone or through email.
We are authorized Leatherique distributors.  We have a shop "right across the border" from where Leatherique is manufactured and we pick it up directly to ensure we always have plenty of fresh supply on hand.
One of our owners is retired from the USPS so we know how to package well and ship using the most economically methods passing the savings on to you.  Our orders are delivered on an average of 2 business days anywhere in the continental US including Puerto Rico.
Our feedback speaks for itself, great products and fast delivery.
This is probably the best kit for restoring your favorite leather jacket or hard to replace purse since these garments are smaller and are made with thinner leather requiring less product for great results .  A typical application for automotive use is 4oz of rejuvenator per seat so I recommend the 16 oz or 32 oz kits for automotive use which can be found in our store.  Feel free to email us with questions either through or through our web site email.  We have always offered discounts to our fellow MBCA, BMWCCA and PCA members just send us an email for details. If your leather is somewhat neglected then this is the kit for you. This kit includes the following: 8 oz Rejuvenator Oil 8 oz Prestine Clean 16 X 27 100% cotton hand cloth 15  X 16 microfiber cloth Tampico leather scrub brush Full instructions for restoring your leather REJUVINATOR OIL - Known world wide for its ability to soften even cardboard hard leather. It is a complex blend of animal proteins, collagens, with absolutely no oil fillers of any kind. Totally unlike all other leather products, it will not stain or discolor leather. It is perfectly safe for equestrian use! Simply spray or wipe onto the surface and massage into the leather with your hands. Allow for it be absorbed into the fibers. Rejuvenator Oil has a unique capillary action which forces proteins into the leather and dirt out! Repeated use will keep leather in tip top shape. Use to condition and preserve all your leather cars, saddles, tack, furniture, motorcycle leather and even apparel. Prestine Clean is the perfect cleaner to use after each application of Rejuvenator Oil to remove the displaced impurities on the surface of the leather. PRESTINE CLEAN - I have literally tried them all and this is absolutely the best cleaner available for all fine leather. It does not contain any harsh chemicals to dry and destroy fine leathers. It contains a conditioner which cleans and conditions leather, but to a lesser extent than our Rejuvinator Oil. Use to clean leather after the application of Rejuvinator Oil has done its job and as a maintenance cleaner and detailer on an as needed basis. This product is also an excellent cleaner and conditioner for vinyl and rubber. Use Prestine Clean after long rides and prior to storing your leather apparel for the summer. We are happy to offer World Wide International shipping, please check under the shipping tab for different options.  We have many International customers that have been happy with our service, check our feedback. Please keep in mind that even though we generally ship within one business day of purchase International shipping is sometimes delayed due to customs and different Postal regulations.  Be aware that certain taxes apply upon delivery in some countries.  We do our best to sell Worldwide and actually enjoy communicating across the globe. Thanks for looking!MMX-DIRECT