1883 Morgan Dollar VAM 10 Sextupled Stars MS62 PCGS Mint State 62 Silver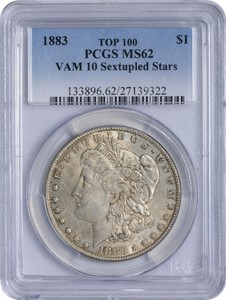 ---
Store Home All Listings Auctions Buy It Now Feedback Policies Contact Us Menu
Store Categories
Cents Nickels Dimes Quarters Halves Dollars Silver Eagles Classic Commemoratives Modern Commemoratives Type Coins Satin/SMS Coins PCGS PR70/MS70 Coins Classic Gold Gold Eagles Cherry Picker Varieties VAM Dollars Rolls Supplies/Books Other
Store newsletter
Add L&C Coins to your Favorites and receive our email newsletters about new items and special promotions.

SIGN UP Product Description 1883 Morgan Dollar VAM 10 Sextupled Stars MS62 PCGS Mint State 62 SilverAn attractive example of the grade with excellent details and surfaces. Most images are stock photos since we often have multiple items in stock. We do our best to use images that accurately reflect the stock we have on hand. Actual images can be requested on expensive coins.

Shipping and Payment Information:

US Shipping:USPS Shipping is free for this item. If other items are purchased that have a shipping fee, the buyer is still responsible for paying the fee stated in those listings. Free shipping applies only to items that state free shipping. All packages are privately insured and include Delivery Confirmation. Most orders are shipped within 1-2 business days from the day payment is received. Payment is expected within 7 days of when the auction ends.

International Shipping: We do NOT offer international shipping. We only ship to U.S. addresses.

Payment: We accept all major credit cards through PayPal.Returns or Exchanges: If dissatisfied with your purchase or wish to return it for any reason, you must return the purchase within 30 days to the address below. For returns and exchanges, please open a case within . If you want your item exchanged with a replacement, you must select the exchange option when you open the case. Please include with the return a description of why you are dissatisfied, as well as the auction information. Failure to include this information may delay processing your return.

Tax: All orders shipped within California will be charged 7.75% sales tax. Orders may be exempt from sales tax if the total of the order is over $1,500, or if we have an approved copy of a resale license on file. Please contact us for more information: L & C Enterprises, Dept E. 11061 Winners CircleLos Alamitos, CA 90720Office Hours: Weekdays, 8:30am to 4pm PST

  Store Home All Listings Auctions Buy It Now Feedback Policies Contact Us

© Copyright 2017 L&C Coins. All Rights Reserved.