1000Pcs Red SV1.25-4 Furcate Pre-Insulating Fork Spade 22~16AWG Crimp Terminals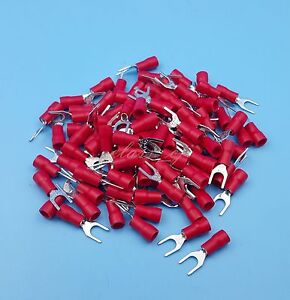 ---
无标题文档                                                                                

Feature
 Model: SV1.25-4

Insulation Material:PVC

Contact Material:Copper

Net Weight:380g

Fit Cable Size: 22-16AWG (0.5 - 1.5mm2)

Current max:19A

Bolt Diameter:4.3mm

Thickness:0.5mm

Package
 Red 22~16AWG Furcate Pre-Insulating Fork Spade Crimp Terminals * 1000
Shipping
                                                                                                                                                                                                                                                                                                                                                                                                                                                                                                                                                                   
Country
shipping time
working days
5-7
8-15
16-20
21-25
26-30
>40
United states
Rate(item arrived)
14.5%
60.5%
20%
5%
0%
Refund
United Kingdom
Rate(item arrived)
9.9%
63.2%
19.1%
3.4%
4.4%
Refund
Canada
Rate(item arrived)
2.0%
45.1%
31.4%
17.6%
3.9%
Refund
Austrulia
Rate(item arrived)
21.4%
52.1%
16.3%
5.2%
4.0%
Refund
Germany
Rate(item arrived)
11.1%
22.2%
30.3%
20.9%
15.5%
Refund
Russia/South Africa and some other country
Rate(item arrived)
most package will need more 30 days
Refund(>50)
Russia and other country  will take much longer than other country,so the Refund time is up to 50 days .
      (1) The above table is for reference only.       (2) Item will be  shipped within 2 working days after full payment is received.       (3) Send to the United States we use ePacket as  the default shipping method(with the tracking number, faster than other country).       (4)Economy  Int'l Shipping is without a tracking number.     (5)If you need a tracking number please choice  standard Int'l Shipping.    

(6)Transportation speed is we can not control , if not received the package for a long time, please contact us by message, we will do our best to help you,thanks!

   

 
Payment
      (1)we accept paypal only,thank you for your support!

(2)The package will be shipped to your Paypal  address.
Return&Contact us
(1)We accept return,Please contact us by   message first before return,item should be return within 14 days and  return shipping will be paid by buyers. (2)If your package more than 30 days have  not been received, please contact us as soon as possible.(Russia and other  country will take much longer than other country so please be patient,if more  than 50 days have not been received,please concact us)(3)we are do our best to ensure items '  quality and our service. We greatly appreciate your POSITIVE feedback, so  please contact us before you leave a negative feedback and general feedback,Thank you  for your support!Have a nice day!!